"Be creative. Focus on possibilities, not limitations…"
You must be willing to take the 1st step without knowing any of the others – define the next incremental deliverable, keep the project moving forward. Have an end vision, but focus on tangible outcomes.
Troubled projects are always a challenge for all parties involved. Oftentimes each party has lost their will to partner with each other and there is an overall lack of trust by all parties. Each side blames the other for everything that has occurred while the project languishes and there is little motivation to solve the problems and get the project back on track.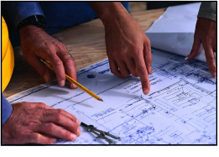 We believe that trust can oftentimes be restored when all parties understand that there are common goals and each party is best served by focusing on the common goals.
Our staff have been working through troubled projects for over two decades. We bring experience. It is our intent to apply that experience to any potential litigation and mitigate it as much as possible with the goal of completing the project as soon as possible.
The first steps in developing a plan of attack on a project in crisis requires an investment in time and energy to perform the key analyses necessary to understand the issues and facts that are causing the challenges. This investment allows us to develop a proper baseline condition and to establish a foundation for moving forward.
Further, this effort allows us to review the project for potential litigation and claim risk for our clients and ensures that any risk points are identified and managed for our clients best interests.
Troubled project services include:
Current Project Status –
• Condition of work in place
• Status of vendors and subcontractors on a project
• Status of material procurement
• Status of the Construction Schedule
• Status of payments to contractors and subcontractors
Project Goals –
• Recovery Schedule development and management to establish proper completion
• Cost-To-Complete efforts to establish overall project budget and risk
• Scope gap and value engineering elements needed to complete project
• Overall Risk Management of ongoing process (Litigation and/or Contractor Failure)
Occasionally, a troubled project cannot be resolved without claims or litigation. When that becomes necessary, our team is prepared to work to develop a strong position of advocacy for our clients; whether that is developing an affirmative claim or the vigorous defense of a submitted claim.